Fire Damage to a Child's Club or Tree House in South Lake Tahoe Can Cause Extensive Damage
2/6/2018 (Permalink)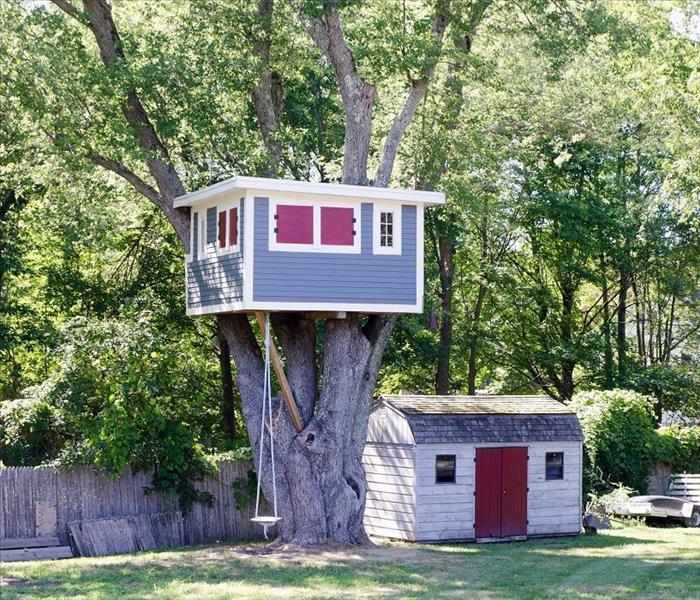 If your child's tree house or playhouse catches fire, call on SERVPRO to restore it "Like it never even happened."
SERVPRO Restores Fire Damaged Structures of Any Size
Children have many benefits living in South Lake Tahoe, and the great outdoors is one of those wonderful things life has to offer. While it may seem of little consequence to many, a child's private hide-away plays an essential role in the lives of many children. However, some children enjoy experimenting with fire, and this can sometimes lead to disastrous consequences.
When such an incident happens in South Lake Tahoe, contacting a professional fire damage restoration company can help. At SERVPRO, we perform whatever helps to make everything "Like it never even happened." Many outdoor play items require extensive and complicated construction diagrams for their small sizes, relative to the family home. The cost of these smaller 'buildings,' however, means a significant financial investment that often plays a role in real estate listings and property tax amounts. We understand that the emotional factor can severely impact your children, as well.
When fire damages such small structures, a considerable amount of smoke escapes to the outside and never poses a problem again. Some materials, such as plastics used or rubber toys, can produce much heavier smoke than a house fire typically makes. Being heavier, this smoke may not travel as far and affect other structures on your property. As we clean the area involved in the fire, we thoroughly inspect all materials that seem undamaged.
If something needs repairing to salvage it for rebuilding, we perform these small tasks. Broken down materials exhibiting shards or splinters, however, can put your children at risk of injury. We can discuss with you any issues about any questionable materials, however, just as we do with any other special requests or concerns.
Depending on the size and elaborateness of your children's playhouse, restoring it and including previous materials might not work well. When total destruction occurs, we can help by cleaning the area, ensuring the removal of all debris from both the area and your property, and preparing the ground for either the seeding of a new lawn section or for the rebuilding of a new structure that your children can enjoy. We understand that you might prefer other options and we can work with you to make these a reality.
SERVPRO of Carson City / Douglas County / South Lake Tahoe helps homeowners with both large and small events of fire damage. A fire of any size can become a traumatic event, especially for children. We would like to help families recover from such disasters when they occur in our area. Call us at (775) 588-2355, our local number, anytime, day or night, 365 days a year for understanding professionals.
Click here for more info on South Lake Tahoe.