Tips to Prevent Frozen Pipes in Below-Freezing Weather
12/12/2020 (Permalink)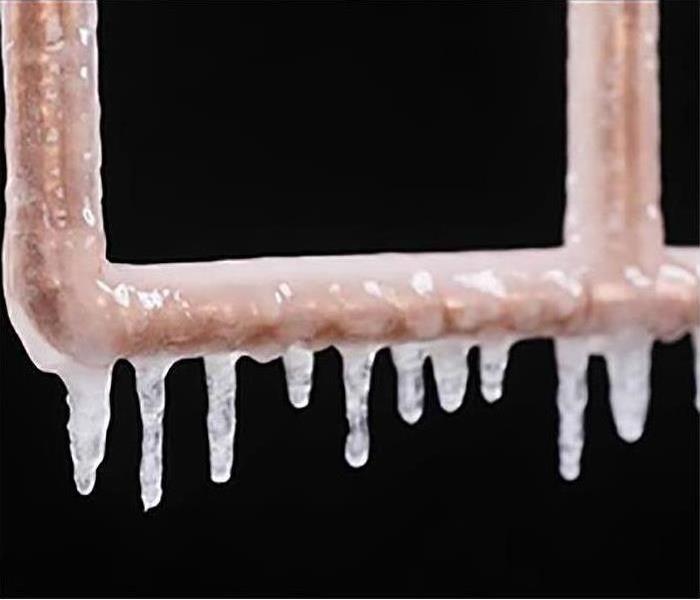 Frozen pipes can create an inconvenience but, more seriously, can cause major damage to your property.
When the temperatures drop, one major issue that could come up is a frozen water pipe and it's potential to bust, leading to flooding and water damage in your commercial or residential property. Learn why frozen pipes are so dangerous, the types of pipes that are most vulnerable to freezing, and four signs that a pipe is actually frozen.
Why Are Frozen Pipes Dangerous?
Frozen pipes are a problem for a couple of reasons.
They can create an inconvenience but, more seriously, can cause major damage to your property.
Lack of Running Water– The most obvious danger of a frozen pipe is the inability to access running water. This can interfere with your ability to do everyday tasks such as washing the dishes or taking a shower.
Potential to Burst- The second problem that can occur when a pipe freezes is that the pipe can burst. Once the water in the pipe freezes, pressure is created between the closed faucet and the blockage that can build up to a point that causes the pipe to explode and extensive water damage to your property can occur.
Pipes That Are Vulnerable to Freezing
There are some pipes that are more vulnerable to freezing than others:
Exterior Walls- Water pipes that are located along the exterior walls of a home can be vulnerable to freezing. This is because they may not have an adequate amount of insulation protecting them from the exterior temperatures.

Attics and Basements- Pipes that are located in attics or in basements may also have a greater tendency to freeze. These pipes may not receive the same amount of heat as the rest of the property. If these areas are not used as living space, they also may not be properly insulated.
4 Signs of Frozen Pipes
There are a few clues which can help you determine if you have frozen pipes at your property:
The Temperature Is Right- Pipes cannot freeze if it is not cold enough outside for them to do so. Water does not freeze when it is 60 degrees Fahrenheit outside, and neither do pipes. When the temperature falls to 32 degrees Fahrenheit or lower, you should begin to take precautions to prevent vulnerable pipes from freezing.

There Is Frost on the Pipe- For pipes that can actively be seen, such as those under sinks, you may be able to see frost that has accumulated on the exterior of the pipe. This can serve as a warning sign that the pipe is frozen before you ever try to turn on the faucet.

No Water Is Coming Out of the Faucet- Another sign that you may have a frozen pipe on your hands is a lack of running water. If you or a tenant turn on a kitchen or bathroom faucet and only a slight trickle of water or no water at all comes out, the water pipe leading to the faucet may be frozen.
Strange Smells- A fourth potential sign of a blocked pipe is an odd smell coming from a faucet or drain. If the pipe is partially or completely blocked, the only way the odor can escape is back up in the direction of your property.
Act Quickly
Once you are aware that a pipe is frozen, you must act quickly to thaw the pipe. Depending on the location of the pipe and your level of expertise, you can attempt to thaw the pipe yourself or you can contact a licensed plumber to thaw the pipe for you. It is imperative to thaw the pipe as soon as possible because it has the potential to burst and cause extensive damage to your property.
If a frozen water pipe bursts and you experience flooding, turn off your water shut-off valve to prevent further water damage. Contact a professional water restoration company, such as SERVPRO of South Lake Tahoe, Carson City, Douglas County, and Lyon & Storey Counties, to extract and mitigate the water loss and restore your property to its preloss condition.
We work with your insurance.
For a stress-free claims process, SERVPRO can help manage the insurance paperwork and process.
Have Questions? Call Us Today –(775) 588-2355
Note: some information provided by www.thesource.com