Stateline's Fox & Hound reopens while Carson City's Café at Adele's permanently closes after Fire Damage.
11/25/2019 (Permalink)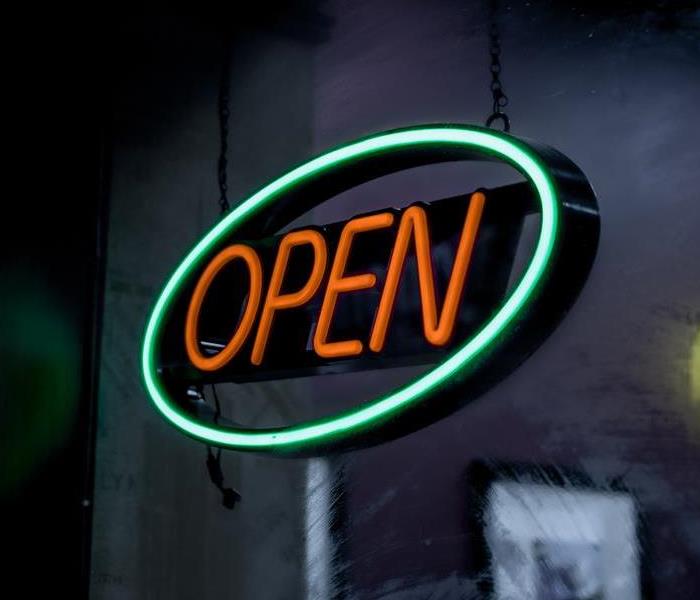 Fox & Hound bar and restaurant reopens in Stateline, Nevada off of Kingsbury Grade. Photo by Prateek Katyal
Why do some companies never reopen?
"Forty percent of businesses do not reopen after a disaster and another 25 percent fail within one year according to the Federal Emergency Management Agency (FEMA). Similar statistics from the United States Small Business Administration indicate that over 90 percent of businesses fail within two years after being struck by a disaster. It is a common misconception that insurance awards and aid from government agencies will allow merchants to pick up the pieces after a disaster — many types of disasters are not covered under normal insurance policies and aid from government agencies may be too little, too late. In this time of uncertainty, emergency preparedness is a hot topic." (Spectrum-bend.com)
With this in mind, let's look at two local restaurants that suffered structure fires this year with very different outcomes for their businesses:
"With the closing of Cafe at Adele's, Carson City and its community will witness the end of an era.
This decision by owners Charlie and Karen Abowd, comes in the wake of a fire that occurred March 28, and the subsequent inability to negotiate a settlement with the insurance company that would cover reconstruction costs.
They had hoped to transfer title in a way that would continue the restaurant under new ownership, the point of having formally put the property on the market in spring 2018. Of course, the fire made that impossible.
It was determined the fire began in the restaurant's laundry area, smoldering hours before igniting. As a result, the actual fire damage was fairly limited, but the smoke damage so extensive that near complete reconstruction would be required in order to make the structure viable."
-Karel C. Anocona of Nevada Appeal (https://www.nevadaappeal.com/news/business/carson-citys-cafe-at-adeles-will-not-reopen-at-march-fire/)
Now let's look at the second business:
"STATELINE, Nev. - Popular Kingsbury Grade restaurant, Fox & Hound, has reopened after a small July 9 fire on their deck caused by a generator forced them to close. The restaurant has undergone a complete renovation over the past ten weeks.
For 27 plus years, Fox & Hound has served locals and visitors with great food and a great view of the Carson Valley."
-Paula of South Tahoe Now (http://southtahoenow.com/story/09/23/2019/fox-hound-reopens-after-deck-fire-forced-closure-july)
SERVPRO of Carson City, Douglas County, and South Lake Tahoe worked with the Fox & Hound to mitigate the damages caused from the fire. We readied the property for safe reconstruction efforts, allowing the business to reopen just a couple of months later.
Both of these family owned businesses have been around for decades and suffered small fires which caused great smoke damage. It seems that the largest factor for reopening was the insurance claims, reconstruction costs and circumstances of the owners. We don't know much about the mitigation efforts from Adele, but it appears that reconstruction costs would have been too great. Meanwhile, the mitigation work that SERVPRO provided Fox & Hound set a quick, high quality foundation for reconstruction to take place.
SERVPRO works directly with your insurance provider to maximize the benefits you are entitled to. We also are licensed in California and Nevada to perform any reconstruction needs. If you are an owner of a business, take a look at these tips including the benefits to having an Emergency Response Plan, knowing what to do after disaster strikes, and steps for reopening your business after a forced closure due to a fire or other disaster.
Why does my business need an ERP?
An Emergency Ready Profile® also referred to as an ERP, is a no cost service offered by SERVPRO® of Carson City, South Lake Tahoe, Douglas County, and SERVPRO of Lyon & Storey Counties to all business owners in the region. It contains critical information needed in the event of an emergency, to help you from becoming part of the 40+% of business that do not reopen after a disaster.
Preparation is key for making it through any size business interruption whether it is a small water leak, large fire, or a burst pipe that flooded your business over the long holiday weekend. No one ever plans on these events and they usually happen at the most inopportune times. However, planning ahead for such disasters can save you a lot of time and money. Knowing what to do and what to expect in advance is the key to timely mitigation and can help minimize any "down time" to your business.
Emergency Ready Profile Highlights:
No cost assessment of your facility.
Concise documentation (also available digitally on an app), that contains all of the critical information needed in the event of an emergency.
Establishes your local SERVPRO® as your disaster mitigation and restoration provider.
Identifies the chain of command authorizing work to begin.
Provides detailed information such as shut-off valve locations, priority areas, and contact information. It is so detailed it contains information for our crews so they know where to park, what door to enter, and what elevators to take if needed.
SERVPRO® is a leader in water and fire damage response and we want to help you quickly get your business back in working order. Now is the time to ask yourself, "Are you ready for whatever happens?"
Get a free customized ERP (Emergency Ready Plan) for your business by contacting SERVPRO here.
What do you do after disaster strikes?
Here are the six tips for the six days following a business fire or other commercial property disaster from Jansen Adjusters International:
Take steps to prevent further damage (Refer to your ERP)
Speak to the experts (Call SERVPRO)
Notify your insurance company
Stay organized
Know that fire claims are unique
Stay calm to avoid bad decisions
Read details on these six steps from the referenced article here.
Reopening a Business After Commercial Fire Damage
A fire can cause all kinds of headaches for a business owner such as soot damage and smoke damage. When confronting commercial fire damage from an electrical fire, any business owner may understandably feel the prospect of opening again is quite daunting. Many spaces inside of the business may have been damaged during the course of a utility room fire. Additional fire damage can happen when a firefighter comes to the property with a fire hose from a large fire truck to put out the flames. During the course of the efforts of the firefighter and additional helpers on the fire truck, there can be all kinds of serious soot and smoke damage to the property. The firefighter next to the fire truck may need to break open one or more windows to get the fire hose inside and help put out the electrical fire. A firefighter with a fire truck may also need to head deep inside of the property with the fire hose as a utility room fire may be isolated from the rest of the space. It's important to start with fire restoration efforts as soon as possible in the aftermath of commercial fire damage. Such fire restoration plans should also include a timeline for reopening the business.

Clearing Out Damage

Clearing out commercial fire damage may take several kinds of efforts. The fire sprinkler system may not yet be turned off. The fire sprinkler system used as part of any former fire suppression plans may also be leaking water in many spaces. Any plan to open up the space after commercial fire damage from a utility room fire or other kinds of fires should include removing items that have suffered from smoke damage or soot damage as soon as possible. Fire suppression methods of all kinds such as s fire sprinkler system and a fire hose may have caused additional damage. The business owner needs to see what has fire damage or soot damage. They need to hire professional fire restoration experts who can examine every corner after a utility room fire and determine why a fire suppression method such as a fire sprinkler system did not work well enough to stop the fire. It's important to think about what can be cleaned out and what cannot.

The Electricity

For many business owners, one of the most important parts of their business is the electrical system. An electrical fire can damage the electricity in the space. The electrical fire can also harm wires that run through the space further so it's hard for any electricity to be turned on. Getting this system turned on again is often important as it can help with further fire suppression efforts. An effective fire restoration company can help with this process, allowing the business owner to think about when they can have power running again. This kind of help is vitally important when think about how to cope with fire damage and how to reopen a business again.

Getting Ready to Welcome Clients

When in the process of working with a professional to get rid of smoke damage and fire damage, it helps to think about plans for reopening the space. SERVPRO can offer soot damage cleanup that fully removes all of the soot from the space including in the interior walls. We can also help make sure the entire area is truly safe to enter again. The business owner along with their clients need to feel safe knowing they can conduct business there even after a serious and dangerous fire. It is important to feel confident in the company hired to help. SERVPRO can help the business owner be assured they can fully welcome guests, clients, employees and others into the space even after a prolonged period of closure after fire has affected many areas of the business.
Conclusion: Property damage takes a huge toll on the business. Sometimes if reconstruction is required, the costs add up to a lot of debt. It's important to minimize damage by preparing with an ERP and get proper mitigation work done in the case of damage so that the space is safe to re-enter and a clean foundation is laid for any necessary reconstruction. This will allow your business to reopen and flourish once again.
SERVPRO puts you back in business. Call (775) 588-2355
Find Fire Damage Emergency Tips:
https://www.SERVPROcarsoncitydouglascountysouthlaketahoe.com/fire-damage-tips
Learn about what to do if your commercial business suffers from fire damage:
https://www.SERVPROcarsoncitydouglascountysouthlaketahoe.com/commercial-fire-damage