Your Carson City Bakery Can Be Restored After A Flood By Our Crew Of Professionals
6/4/2019 (Permalink)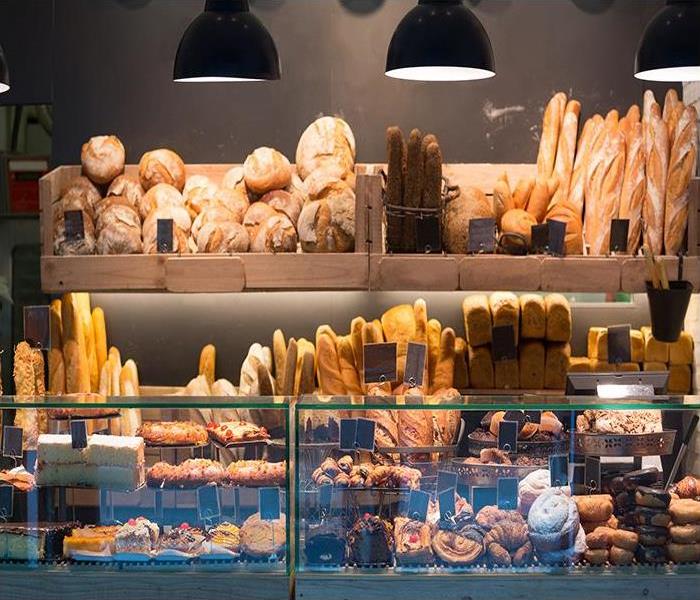 We work efficiently to get your bakery back in business as soon as possible with as little disruption as possible.
SERVPRO Can Help Preserve Your Carson City Bakery's Beautiful Hardwood Floors!
Heavy rainfall in Carson City can bring large amounts of flooding to your bakery business. Flood waters can disrupt your daily working schedule and can make it impossible for customers to access your store. It's important to contact professionals who can get your business back in working order.

Commercial flood damage in your Carson City bakery can result in ruined baking equipment and supplies, disrupting your daily baked goods production flow. Water can infiltrate the circuitry in your ovens, causing short circuits, and can ruin bags of sugar and flower you have stored. SERVPRO technicians are IICRC (The Institute of Inspection Cleaning and Restoration Certification) certified and can remove flood waters from your business and help dry your supplies and equipment. We can arrive at your business during times most convenient for you so that there is minimal disruption to your normal business flow.

Once our techs are on site, we can begin pumping out flood waters with the assistance of underwater pumps and industrial-grade wet vacs. We can then use air movers to pull moisture from your floors and walls, then use dehumidifiers to remove excess moisture in your bakery's air. This has the benefit of helping prevent mold formation in your dry baking supplies and can facilitate the drying of your supplies if they were exposed to water. The process can be done during your off hours or between rushes of business to avoid inconveniencing you more than necessary.

Additionally, we can help begin the drying process of your over and mixers. Electrical equipment can be unplugged to prevent hazards, and water can be removed from the interior of your equipment. We can set up additional dehumidifiers to remove moisture from electronics. An electronics restoration specialist should later be contacted.

If commercial flood damage is threatening your business' livelihood, then contact SERVPRO of Carson City / Douglas County / South Lake Tahoe at (775) 588-2355 for quick and efficient assistance. We work efficiently to get your bakery back in business as soon as possible with as little disruption as possible.
Click here for more about Carson City.