Restoring Your Morning Routine After Fire Damage Takes Out Your Tahoe Home's Bathroom
6/11/2018 (Permalink)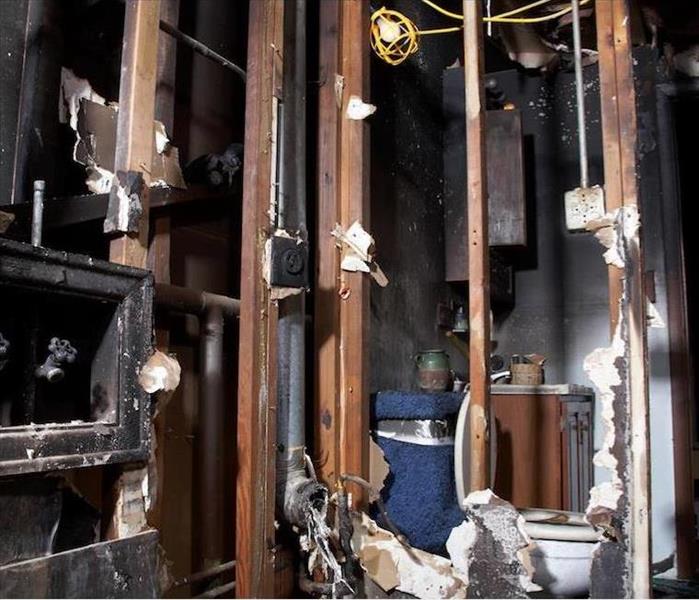 When a fire breaks out in your bathroom, you need fast remediation and restoration. Call SERVPRO right after the fire fighters leave.
Team SERVPRO Quickly Takes Control of Your Bathroom Fire Disaster
Hectic mornings in Tahoe can take their toll on us, and sometimes, the lack of time causes us to forget to do minor but very crucially essential things. Curling irons and other hair styling instruments heat up to do their jobs, but few have safety shut-off switches to protect our homes from those times that we forget and leave the house without turning them off.

A curling iron can quickly reach temperatures high enough to ignite nearby towels or other linens, leading to your home sustaining unnecessary fire damage in Tahoe. Not only does the burning of different synthetics in an enclosed area create caustic odors, but any cosmetics can also become a terrible mess. Cans of hairspray, deodorant, and other beauty care products can explode and cause burnt and scorched areas on walls, the ceiling, and any fiberglass components of your bathroom. In short, a small moment of forgetfulness can render your bathroom unusable. Professional mitigation experts from SERVPRO can restore this kind of damage in your home and get your family's morning routines back to normal.

After we clear your bathroom of any damaged items and materials, we can clean up the remaining surfaces to make things safe for the restoration stage. This sometimes includes exhaust vents and their ducts. We can wash textiles that suffered only smoke damage with a specialized laundry detergent that removes both the stains and the odor, so your family can safely use them again without worrying about any carcinogenic effects.

Odors accompany fire damage, and they can find their way into areas near the bathroom, so we perform deodorizing services wherever we detect smoke or other foreign particles. During showers and hot baths, the steam can make any remnant odors much more noticeable, so please advise us regarding any continuing problems with such odors.

Fire damage can affect any area of your home, but when it happens in the bathroom, your home may seem livable, but in reality, many hindrances soon become apparent in your daily activities. SERVPRO of Carson City / Douglas County / South Lake Tahoe wants to help you enjoy every part of your home like you should. Fire damage can prevent this, so we offer our services every day of the year, 24 hours a day, 7 days a week. Contact us at (775) 588-2355 so we can assist you and your family.

Click here for more about Tahoe.