How We Rescue Flooded Homes with Water Removal in South Lake Tahoe
1/8/2018 (Permalink)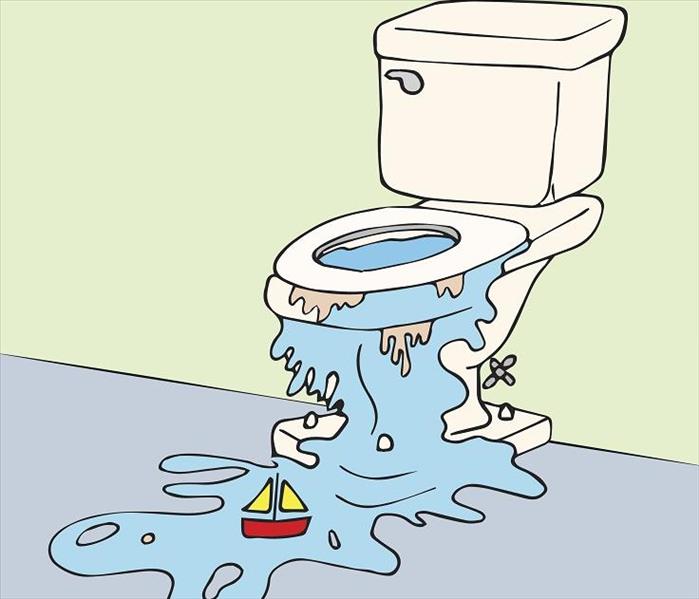 An overflowing toilet requires professional water removal services to properly restore your home and prevent further damage.
SERVPRO's Water Removal Process for Flood Damaged Homes
When a home in South Lake Tahoe becomes flooded from an outside source, such as incorrectly aligned gutters or an interior one, like an overflowing toilet, water immediately begins damaging everything it comes into contact.
In a flooded home in South Lake Tahoe, the restoration process only begins with water removal services. The other services help prepare your home for your return by removing materials damaged by the water and replacing them with all new materials. We do what it takes to make your home "Like it never even happened."
After the pump trucks extract all signs of standing water from your floors, we move onto saturated materials. The drying out of your home continues with the use of smaller extraction units, both portable and easily maneuverable by hand as well as stationary units. Then we bring in powerful air movers that increase the circulation rate of the air inside your home.
As air moves rapidly through your home's interior, we take meter readings of the surfaces of your dwelling so we can assess our progress. Sometimes we need to dry the interior of walls, so we make small openings, which we close upon completion of the drying process. Carpeting can sometimes take a terrible toll during a flood, so we often replace the entire carpet and the pad below.
Our Odor Control Technician (OCT) is ready to help make the odors left behind by flooding, due to the high organic content flooding brings into homes, not only less obvious but eliminated. We do not merely cover up odors. We eliminate them at their source by removing the compounds that cause them.
SERVPRO of Carson City / Douglas County / South Lake Tahoe wants to help your family recover from horrific events such as flooding that can keep you out of your home until they no longer pose a problem for your family's occupancy. Call us at (775) 588-2355 as soon as you know there is a problem with an impending flood, and we can give you helpful tips on lessening flood damage. We Are Faster To Any Size Disaster, including floods.
Click here for more information about the Tahoe area.