Get the Ball Rolling Again with Commercial Water Removal in Tahoe
12/27/2017 (Permalink)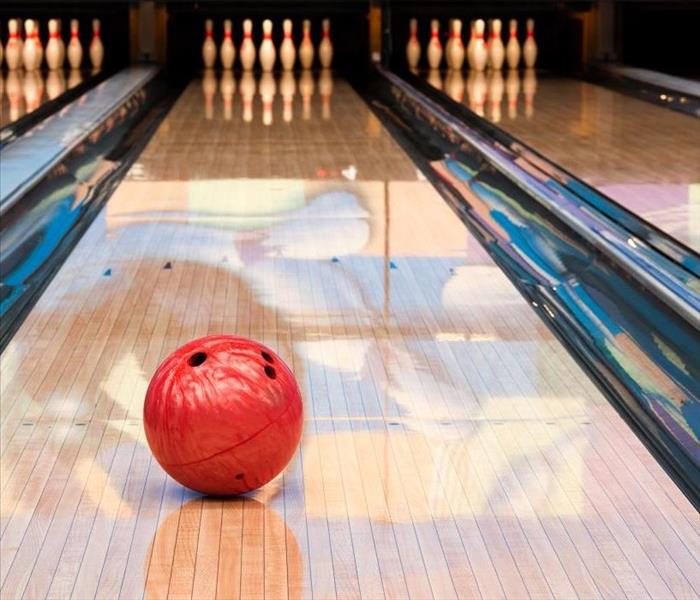 SERVPRO offers quick and efficient water removal services so that your bowling alley suffers as little damage as possible.
Fast and Effective Water Removal Services
Entertainment venues often contain a bar or restaurant or both in Tahoe. With food and drink comes many ways for water to intrude unexpectedly into your business's areas. A leak, a break, or a malfunction can send large quantities of water surging through the spaces normally reserved for your customers to relax, eat, dine, or play. We provide a fast and effective solution for your water removal needs.
The ice maker in the bar and grill of your Tahoe bowling alley overflowed, requiring quick water removal. Melted ice and a clogged and now burst water pipe contribute to large quantities of water saturating your bar and kitchen areas, as well as a portion of the dining room. At this busy time of the year, the last thing you need is a "Closed" sign on your door. We have the trained technicians and the specialized tools to get your destination dried out and up and running again.
If it is unsafe to operate electrical equipment until the moisture is eliminated, SERVPRO uses sources on our service vehicles to generate the power needed to pump and extract the icy water. The carpeting in your dining area responds well to a weighted wanding with a commercial grade extractor. Our technicians receive IICRC training intended to prepare them for comprehensive in-place water removal of floor coverings. The carpet, padding, and subfloor must all be dried to industry standards to minimize secondary damage.
After the extraction, SERVPRO employees place air movers and dehumidifiers in strategic spots to complete the drying of the floors and other areas. We use advanced monitoring probes to measure the moisture levels and to isolate any pockets of water that may be lurking behind equipment, in walls, or below the floor. If residual pooling of water is a problem, we take steps to release the water and either pump or extract it out of the spaces.
We move quickly to remove the water and dry out spaces as we realize any downtime is disadvantageous to your business. If it all possible we work with you to isolate our work areas from your customer service areas so that your patrons can enjoy a few lanes of bowling while we clean up and dry the affected areas. SERVPRO has a restoration mentality and strives hard to transform a water loss "Like it never even happened." with as little muss and fuss as possible.
Call on SERVPRO of Carson City / Douglas County / South Lake Tahoe if your business experiences a water disaster. Contact us at (775) 588-2355, so we can schedule a fast assessment and get our water removal team on the job right away.
Click here for more information about the city of Tahoe.