Flood Damage Issues in Carson City
3/13/2017 (Permalink)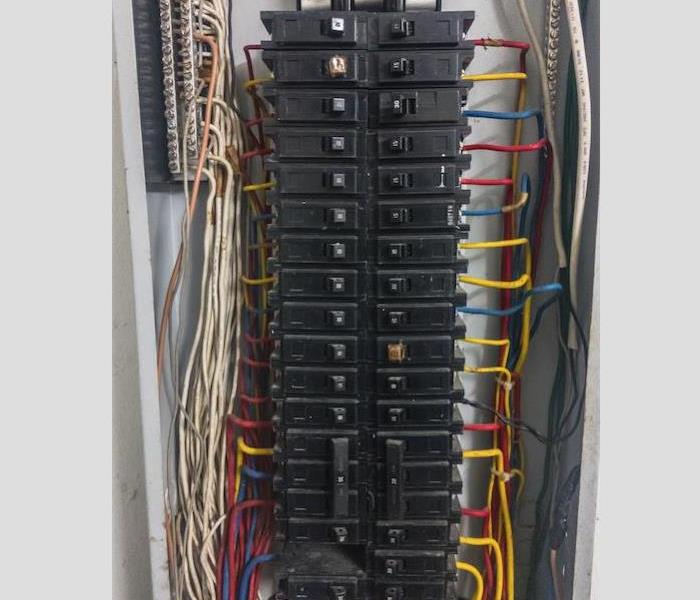 Exercise safety precautions and prevent electric shock by staying out of your house and away from your electrical panel after flooding.
SERVPRO Response Teams are Standing By to Tackle Your Flood Damage
It is not an everyday statement to say there is a flooding problem in Nevada. It does happen, though, and when it does, the effects stay around for a long time if not quickly removed.

There is no real safe place to build in Carson City to avoid flood damage. The Nevada State Railroad Museum severely suffered when it flooded from storms about eight weeks ago. It was over a month before removal of the last of the mud, and standing water. Fortunately, when it comes to restoring local homes, SERVPRO has a much faster track record.

Calling us is also the safest action you can take. Unless your breaker box is outside the home and completely dry, don't even try to touch it. It only takes a slight amount of water to turn a switch into a shock that can give you a scare or even kill you. Our inspectors are trained to examine your electrical system to ensure the environment is secure for our response team and you to safely enter your home and get started.

Our first step is to isolate and remove the flood water. If your home is in a position where there is still water coming in from a creek or another source, we block the access using sandbags. Next, technicians deploy industrial pumps. If the power is out for any reason, they also set up a generator from our equipment inventory to ensure uninterrupted service. In nearly every situation, we remove all standing water in less than 24 hours.

The second step is water extraction. Technicians use specialized wands and vacuums to draw moisture trapped in carpets and flooring. If not done quickly, carpets and carpet pads begin to rot and disintegrate; wood floors warp and twist in a day or two if not accomplished. In some cases, space heaters may also be used to raise the temperature to help prevent warping.

Once accomplished, the response team also uses heaters to draw down the moisture level of surrounding property and the air. They also deploy dehumidifiers which dry the air by removing up to 20 gallons of water depending on the size of the devices and how high the humidity may be.

With all of this safely accomplished, we can put you back into your home. The process takes a bit longer than what you read here, but SERVPRO of Carson City / Douglas Count / South Lake Tahoe restores your home to its pre-flood state as quickly as possible. Call us at (775) 588-2355 to begin.