Campfire Safety During Drought Season
5/18/2022 (Permalink)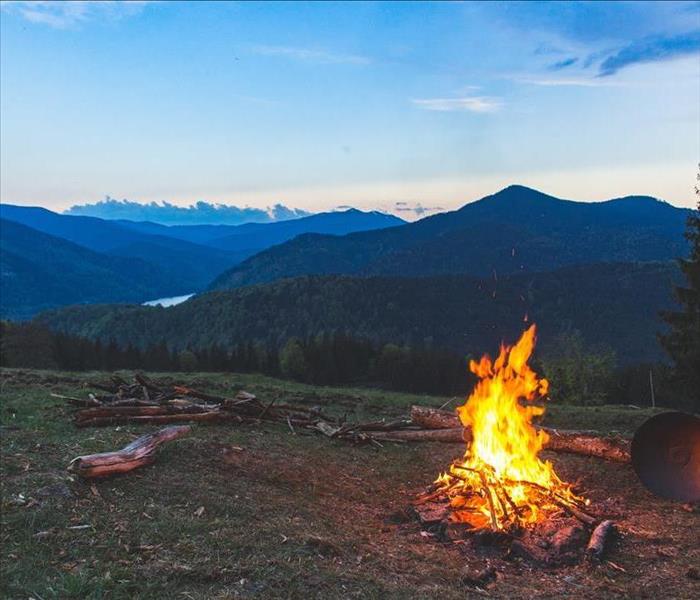 Find out if the campground has an existing fire ring or fire pit. Remember: If it's too hot to touch, it's too hot to leave. "Pack in, Pack out."
The dry season is upon us!
While it is always important to stay safe when making a fire, it is especially helpful to know these safety tips when chances for a forest fire are higher due to drought.
For your safety and the safety of others, implement these safety tips on how to pick a good camping spot, prepare a fire, and extinguish it properly.
How to Pick a Campfire Spot
Find out if the campground has an existing fire ring or fire pit.
DO NOT build a campfire if the campground, area, or event rules prohibit them.
Take wind, and its direction, into account when choosing the site. Choose a spot that's protected from gusts.
DO NOT build a campfire in hazardous, dry conditions.
If there is not an existing fire pit, and fire pits are allowed, choose a site at least 15 feet from tent walls, shrubs, trees, or other flammable objects. Beware of low-hanging branches.
Choose an open, level location away from fuels such as logs, brush, or decaying leaves.
How to Prepare your Campfire Pit
Clear a 10-foot-diameter area around the site. Remove any grass, twigs, leaves, and firewood.
Dig a pit in the dirt, about a foot deep.
Surround the pit with rocks.
How to Build Your Campfire
Gather three types of wood from the ground always. Never cut whole trees or branches, dead or alive. Live or fresh materials won't burn, and you'll be damaging the forest. Dead standing trees often are homes for birds and other wildlife.

Tinder: Small twigs and dry leaves grass and needles.
Kindling: Sticks smaller than 1″ around.
Fuel: Larger pieces of wood. Keep these stacked upwind, away from the fire.

Make sure you have a source of water, a bucket, and a shovel nearby at all times.
Loosely pile a few handfuls of tinder in the center of the fire pit.
Ignite the tinder with a match or lighter.
Wait until the match is cold, and discard it into the fire.
Add kindling and fuel, the larger firewood, as it grows and to keep it going.
Keep the fire small and under control.
How to Extinguish your Campfire
If possible, allow the wood to burn completely to ash.
Pour plenty of water on the fire. Drown ALL material, not just the visibly red material. Pour until hissing sounds stop.
If you do not have water, stir dirt or sand into the embers with a shovel to bury the fire.
With your shovel, scrape any remaining sticks and logs to remove any embers. Make sure that no embers are exposed and still smoldering.
Continue adding water, dirt, or sand and stirring with a shovel until all material is cool.
Remember: If it's too hot to touch, it's too hot to leave. "Pack in, Pack out." It is your responsibility to pack out everything that you packed in, including any trash.
For professional fire damage services, or fire safety tips, SERVPRO of Carson City, Douglas County, South Lake Tahoe, Reno East, and Lyon & Storey Counties is here to provide 24/7 services. Call us at (775) 588 - 2355, or visit our website for more information.