Professional Deep Cleaning For Your Commercial Property
4/19/2022 (Permalink)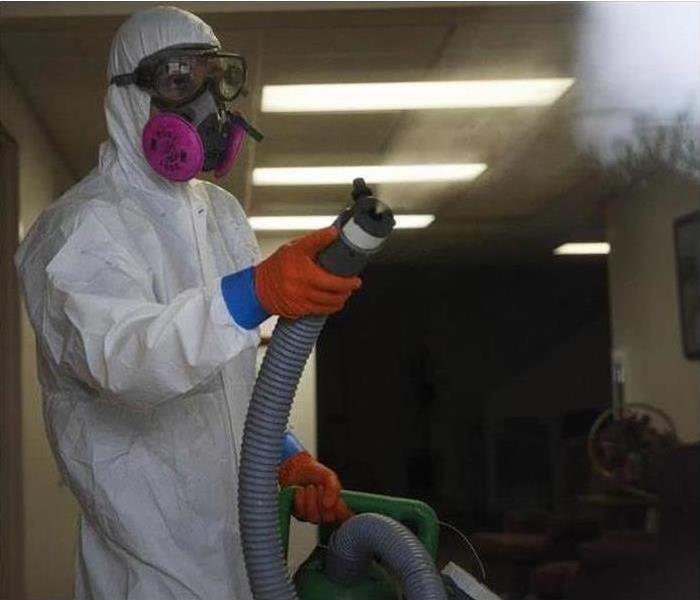 Our SERVPRO technicians sanitize commercial properties with the highest quality products and years of experience.
There has never been a better time to re-evaluate your cleaning policies and procedures. Whether it's an office, residential building, or your place of business, cleanliness is one of the highest priorities.
Here's how to find a professional cleaning service.
Find a Trusted Professional Cleaning Service
Professional cleaners are in high demand because of. If you are going to trust a professional cleaning service, you need to be sure they are qualified for the job.
Look for a service that has experience cleaning spaces like yours. A company specializing in individual homes may not be the right choice for your office building or vice versa.
Read reviews for the cleaning service before hiring them. If other people have had a good experience, chances are you will too.
Make sure the professional cleaning service has procedures with regard to PPE and other precautions when entering your space. Most services now have clear guidelines on protection for safety and the sanitation of the property.
One-time cleaning is not going to be enough. Talk with the cleaning service about setting up a regular cleaning schedule weekly or bi-weekly. This is separate from regular janitorial services!
Be Proactive
A professional cleaning service will make a big difference in the safety of your workplace. But it doesn't mean that you can be complacent about other sanitation measures.
In between cleanings, you should clean surfaces, including door handles or elevator buttons. Any surface that people could potentially come in contact with should be disinfected to prevent illness.
Promote handwashing in bathrooms and kitchens. You can use sticky notes, posters, or any other signage that might be helpful to remind people to wash their hands.
Keep sanitizing agents available in areas where handwashing may not be convenient.
If you are looking for a reliable cleaning service, contact us today at (775) 588-2355.