Why Should I Get a Professional to Clean My Carpets After a Water Leak?
2/27/2021 (Permalink)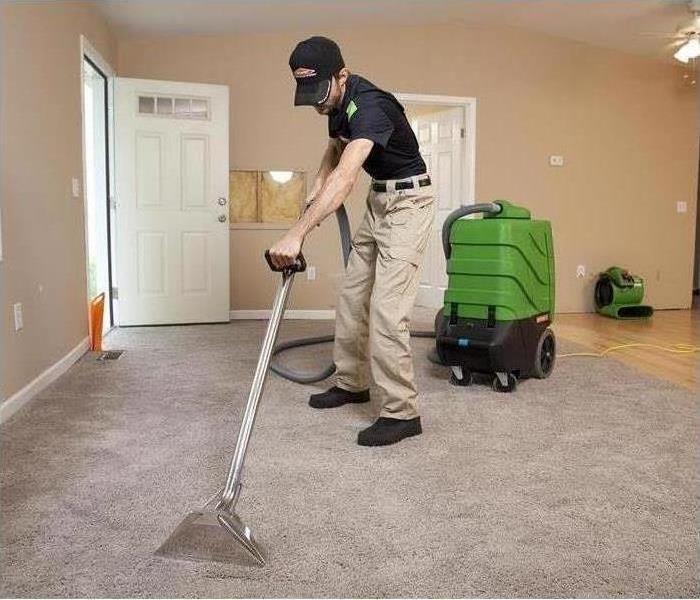 SERVPRO technicians are always here to help. Call our office 24/7 - we are faster to any size disaster.
SERVPRO Has the Knowledge and Professional Equipment to Help You Quickly
Even after a minor water leak in your home or business, there may be extensive damage to your carpet, especially if the moisture under the carpet pads was not detected immediately. Our professionals come in, assess the situation, address the loss, and mitigate any further damage from happening, such as warped floorboards or mold growth.
What Does SERVPRO Use to Get Rid of the Water From my Carpet?
Our Technicians Use Extraction and Drying Equipment to Clear Away Excess Moisture
Our IICRC (Institute of Inspection Cleaning and Restoration Certification) technicians use best practices to deal with the water damage in your home. They typically extract all standing water with portable or truck-mounted extraction equipment before going about treating and cleaning the carpet. Technicians remove the pad underneath the carpet and usually replace it.
After Extraction, What Do SERVPRO Technicians Do to Treat and Clean the Carpet?
• They treat the surfaces of the carpet, first checking to ensure there is no mold or damage.
• Use deodorizers and antimicrobial cleaners to treat the flooring and carpet backing.
• After putting the carpet back down, treat the front of the carpet with the same deodorizers and antimicrobials.
• Extract more water if needed.

After technicians treat the carpets and flooring underneath, they set about the task of thoroughly drying the room. They place air-movers around the room to forcefully push airflow over surfaces. While air movers work, dehumidifiers pull moisture out of the air and exhaust warmer air, causing the carpet to dry more quickly. Using our professional services promotes more thorough restoration in a shorter amount of time than if you were to attempt it on your own.

For premium restoration services, Contact SERVPRO of Carson City, Douglas County, South Lake Tahoe, Lyon & Storey Counties. We make it, "Like it never even happened."