Quick action cleanup and mitigation response, even in the storm of Covid-19
5/26/2020 (Permalink)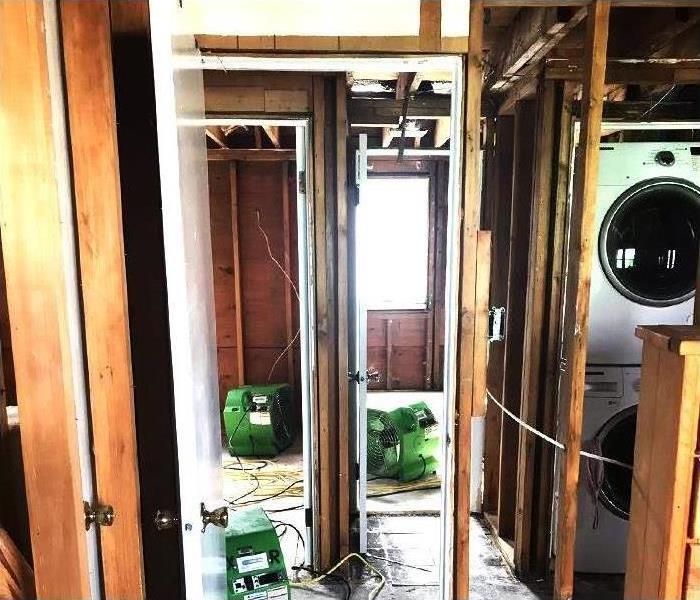 Property disaster events might be unpredictable, but our SERVPRO response and rapid cleanup and restoration service is reliable.
Even though the storm of Covid-19 is still amidst our cities, fire and flood damage can still happen. Emergency property damage can strike your home or business at any hour of the day or night. When you are dealing with fire, smoke, storm, flood or another type of property disaster, immediate action is crucial.
That's why SERVPRO of South Lake Tahoe, Carson City, Douglas County, and Lyon & Storey Counties is here to help. Our crews are ready to respond to your property emergency 24/7, 365 days a year. Yes, even at 2AM our highly trained staff and state-of-the-art equipment will respond to your building fire or facility flood. When you make the call, our staff is READY to take immediate action to help preserve as much of your property as possible and help to avoid additional damage and cleanup costs.
SERVPRO is a trusted leader in the property disaster recovery and restoration business, our on-call 24/7 emergency response teams are highly trained and experienced with all types of property disaster losses including fire, smoke, water, sewage, flood and storm damage. Our restoration professionals near you have 30 years of experience providing high-quality commercial and residential property disaster restoration and reconstruction services to local Carson City, Douglas County, South Lake Tahoe, and Lyon & Storey County communities every day.
Emergency Response Property Disaster Restoration Services
SERVPRO is committed to making the cleanup, restoration and rebuild process for our customers organized, efficient and successful, after a frustrating and confusing property disaster event. Whether your home or building sustained damages from a storm, flood, fire or water disaster, you'll have trusted and compassionate professionals by your side. We will work with you to survey the extent of the property damage, develop a plan for cleanup, restoration and reconstruction.
Disaster restoration and repair is best left to professionals. Our SERVPRO professionals are skilled with the complexities of removing water and the water extraction, drying, dehumidifying, disinfecting and removal equipment required to complete your home or commercial building cleanup and repair properly. Our expert team has the experience, certifications, and equipment to complete any size restoration and rebuild project quickly, correctly, and affordably.
Some of our property restoration services include:
Water Removal and Extraction: This important and often first step in the process involves us removing and extracting standing water from all areas of your property. Our SERVPRO technicians utilize industrial grade equipment to move large volumes quickly and efficiently to minimize long term hazards and damage.
Property Drying: After the bulk of the water is removed hazardous levels of moisture can still exist in fibrous structural and aesthetic components in your home or business building. We utilize specialized equipment to pull moisture from the air to create an environment suitable for drying of these important pieces and may also attempt to speed the drying process with heat.
Cleanup and Debris Removal: After water and moisture have been removed and dried it's important to conduct thorough cleaning of the affected area to prevent future health hazards. Flooding from rivers and sewers can pose exceptional risks to health and welfare due to the silt and bacteria they carry. Our team will remove damaged items that are beyond repair.
Soot and Smoke Mitigation: SERVPRO's full-spectrum cleanup and restoration capabilities have many benefits when it comes to fire and smoke damage restoration. We often use air scrubbers to create negative air pressure to force contaminants through HEPA filters before exhausting to the outdoors. Air quality is improved, including the clearing of any fumes from cleaners or solvents used to remove protein-based soot from kitchen fires.
Our team provides professional and prompt emergency restoration services for all commercial businesses and homeowners. SERVPRO's building services gives our location a unique opportunity to streamline the entire property restoration and recovery process, while mitigating challenges and providing quick and seamless professional service from start to finish.
If disaster strikes, call SERVPRO of South Lake Tahoe, Carson City, Douglas County, and Lyon & Storey Counties at (775) 588-2355.