Decontamination and Cleaning Guidelines for Reopening Your Building After Lockdown
5/15/2020 (Permalink)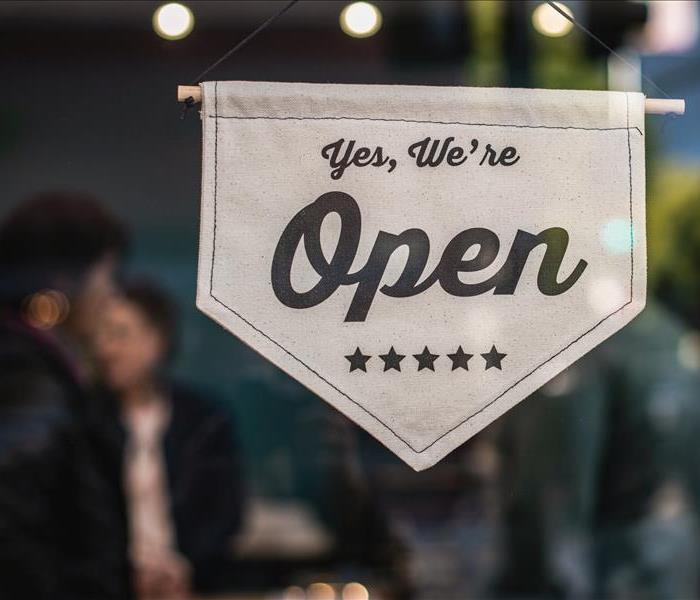 While you prepare to reopen your facility, make sure proper safety guidelines are in place, and professional cleaning has been completed.
COVID-19 Decontamination and Cleaning Services
Americans miss conducting business as usual and Californians are no exception.
El Dorado County has gotten the state OK to reopen more quickly.
The California Department of Public Health posted documents from Butte and El Dorado counties on its website with a note that "These counties can move more quickly through Stage 2 opening sectors once state guidance is posted for that sector."
Businesses and offices that are ready to open must do so with care and caution to ensure the health and safety of employees and guests.
Many businesses don't have professional cleaning and sanitization plans in place. It's wise to put together a best practices strategy including updated cleaning guidelines for virus spread prevention efforts.
Priority #1: What Every Owner and Employer Needs to Know
You need not navigate the reopening process on your own. Comparing notes with others in your industry helps ensure that all your bases are covered.
Right on time the National Restaurant Association recently released a publication on COVID-19 reopening guidance. Check associations for industry-specific reopening guidelines.
Below are some tips for cleaning and sanitizing as businesses reopen:
The entire facility should be thoroughly cleaned and sanitized (especially if it has been shut down for a while). Special attention should be given to decontamination of "high touch" areas. However, complete cleaning guidelines should also include sanitizing areas that are rarely touched. Ensure that disinfectant products are the appropriate strength and that they are used properly for best effectiveness.
Disinfect everything at tables between patron uses, especially high touch areas.
Establish a schedule that includes more frequent cleanings on the back end as well as the front end.
Check restrooms regularly. Clean and sanitize more often in relation to how frequently each is used.
Make hand sanitizer readily available to guests. Consider installing touchless hand sanitizing dispensers.
This is only a preliminary list. Communicate with your staff to explore anything relevant that addresses the special hygiene needs of your building.
Priority #2: Update Existing Policies and Procedures
Our way of life has completely changed this year and so must our practices. It's more important than ever for management to do their part to prevent virus spread in public use areas.
To properly adjust to a new normal, make sure your updated protocol includes the following:
Social distancing promotion with posted reminders and floor markers. Reduce the number of people standing around in waiting areas by offering wait alternatives (like texting them when it's their turn).
Clearly outline expectations for use of staff PPE (personal protective equipment like masks and gloves).
Set clear guidelines regarding employee health practices including comprehensive sanitizing and disinfecting schedule/instructions.
Minimize inventory "grab and go" food coolers.
Come together as a team to construct a comprehensive and updated safety protocol. Listen to feedback and concerns from your staff to account for the needs of your particular operations. Use clear and consistent communication to ensure everyone is on board with the updated practices.
Priority #3: Monitor Employee Health and Provide Proper Safety Equipment
Below are some recommendations on how to direct your staff to ensure they are in the best condition to come into work.
Make it clear that sick employees should not come to work.
Monitor staff for signs and symptoms of illness. Pre-work screenings may be necessary such as taking temperature to make sure the employee doesn't have a fever.
Establish rules for staff who become ill. Per CDC guidelines, a worker with symptoms of COVID should self-isolate for 7 days, and is not ready to return to work unless symptom-free for at least 3 days (without the use of medications like fever reducers).
Establish hand hygiene protocol including:

How often they are expected to wash their hands,
Appropriate use of hand sanitizer.
Don't touch the face with your hands.
Employees play the most important role in your business. Take special care of them so that they can take care of your facility and your operations.
Priority #4: Implement Social Distancing
While some government officials are starting to roll back certain lockdown rules to allow businesses to gradually reopen, they continue to be adamant about social distancing and protecting senior citizens.
Here are some suggestions for social distancing success:
Post friendly reminders about social distancing best practices.
Adjust your floorplan to reinforce the current state rules for facility capacity (such as a temporary removal of some tables and seating).
Limit the amount of people in the facility.
Make sure seating areas are at least six feet apart.
Rope off or install barriers between seating areas.
Encourage cooperation from your guests and have a trained employee monitor the capacity in the reception and dining areas. It helps to have a monitor who has excellent customer service and communication skills. Some guests may not respond well to restrictions.
Reserve space for delivery personnel so that they can maintain space and expediently serve those who need to stay home.
Post advisories that people who are sick or symptomatic are not allowed to enter your building. Encourage calling or doing business from home if possible.
Provide and instruct public-facing staff to wear face protection.
If possible, install transparent barriers at counters for public-facing staff.
Reduce physical contact by encouraging/incentivizing mobile ordering, use of POS tablets, and contactless payment. Ideally, employees should be minimally handling credit cards, currency, and machines.
Furnish hand sanitizer dispensers for guests (contactless if possible).
Design a strategy that prevents guests from congregating. This includes floor markings, encouraging people to wait elsewhere (in cars), opening additional entrances/exits, adjusting traffic flow from bathrooms. The goal is to keep people apart as much as possible.
See to it that the staff aren't working too closely together. Space them six feet apart whenever possible. This means making space between workstations.
Limit how many employees occupy the break room at a time.
See to it that the staff is aware of important social distancing policies with training and prominent notices.
Preventing the spread also means preventing future lockdowns. When everyone does their part, we can avoid more closures.
How Businesses Can Instill Customer Confidence
Stepping into a store, restaurant, or other facility for the first time in months may feel a bit surreal. The first step of helping the public ease back into doing business is to reassure patrons that the establishment is safe.
Here's how you can do that:
Conduct a complete and thorough cleaning using a professional cleaning company such as SERVPRO of Douglas County, Carson City, and South Lake Tahoe. The confidence a sparkling clean building brings will shine through from the management to the staff and finally to the customers.
Be transparent about your cleaning practices. When customers see staff diligently following conscientious cleaning guidelines, they will see first-hand evidence of your attention to cleanliness.
Communicate your updated health, safety, and cleaning policies around your establishment and on social media. This lets people know exactly what measures are being taken to prevent the spread of illness.
Easing into this new normal is an adjustment for all involved. With a little empathy and thoughtful communication, you put your customers at ease through the reopening process.
Follow Your State or City's Guidelines on How to Reopen
While the governor's orders are expected to override any orders from local authority, it may be wise to adhere to what local officials advise.
Each state and city has a different timeline for when they plan to reopen businesses. Check your county's site for updated information.
SERVPRO's Coronavirus Cleaning and Decontamination Services for Commercial Buildings and Local Businesses
We have no doubt that you put full trust in your staff to do quality cleaning. However, your staff may not have the use of the best EPA registered disinfectants in the industry or have enough personal protective equipment to go around.
SERVPRO of Douglas County, Carson City, South Lake Tahoe, and Lyon & Storey Counties has the professional deep cleaning experience and all the equipment needed for our IICRC trained technicians to comprehensively sanitize your facility for reopening.
What we have to offer:
24/7 service for biohazard cleanup emergencies or overnight scheduling that works around your operating hours.
SERVPRO is the most recognized cleaning, decontamination, and restoration company in the country. Our disinfectants are trusted by international airports and federal agencies to clean their properties. We have effective disinfecting services for any sized facility and for any kind of situation.
Professional bioremediation services to clean, disinfect, and sanitize the property while also protecting our MVPs - our technicians. We practice uncompromising safety and hygiene standards.
We apply CDC-recommended & EPA-registered disinfectants on all porous and non-porous surfaces.
We hand-wipe all moisture-sensitive surfaces with a disinfectant-wet towelette.
We hand-wipe all high-touch surfaces.
We provide you with a certification of your property's cleanup as completed by SERVPRO.
Social media announcement from us announcing that your business has been cleaned and is ready to re-open.
Refresh services include:

Carpet cleaning
Upholstery cleaning
Air duct cleaning with new a/c filters
HEPA air scrubbing
SERVPRO of Douglas County, Carson City, South Lake Tahoe, and Lyon & Storey Counties is honored to serve the community alongside our local businesses, state offices, and more. We're here to support the safe and efficient reopening of your facility.
Call us today at (775) 588-2355