Vandalism and Graffiti Removal in Carson City, Nevada
1/13/2020 (Permalink)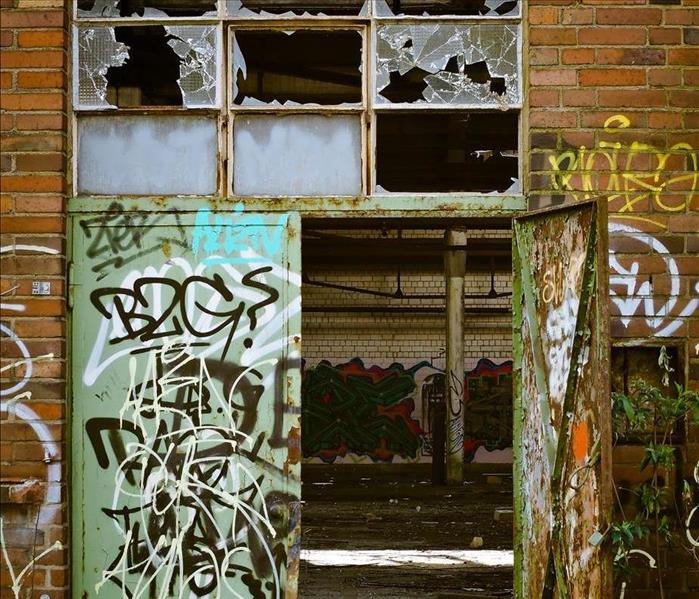 Graffiti is often unwanted damage to personal property. The vandalism damages in this photo include graffiti spray paint and broken windows.
Carson City, Nevada and surrounding areas have encountered many cases of wide-spread vandalism and graffiti damage in the past few years. Graffiti is often unwanted damage to personal property. Damage can consist of spray paint on personal property including vehicles, buildings, fences and street signs.
SERVPRO provides exterior building cleaning, paint removing, pressure washing, wall cleaning, sand blasting, and repainting. Serving Carson City, Douglas County, South Lake Tahoe, and Lyon & Storey Counties, SERVPRO is available 24/7 for emergencies and works with fire and police departments on issues requiring cleanup services that are legally licensed to handle sensitive information.
Vandalism drives away business causing customers to not feel safe, it erodes the community sending property values plummeting, and graffiti is toxic to the environment. Graffiti removal can be expensive but it is important for your area.
Imagine how beautiful our city could be if we clean up and prevent graffiti and vandalism.
Timothy Kephart is the founder of Graffiti Tracker (www.graffititracker.com), a web-based system designed to help people identify, track and prosecute graffiti vandals.
Anyone who has suffered losses as a result of vandalism is asked to file a report and damages at the Sheriff's Office, located at 911 Musser Street in Carson City.
If you have information regarding incidents, please contact the Carson City Sheriff's Office at 887-COPS (2677).
If you need help making the damages "Like it never even happened," call SERVPRO at (775) 588-2355.