Professional Mold Remediation Services in Virginia City, NV 89440
10/8/2019 (Permalink)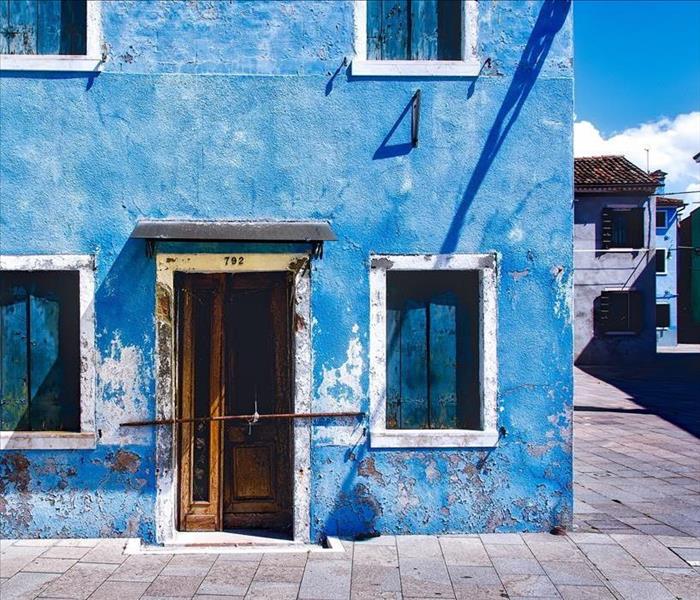 Contact SERVPRO to check and make sure your property is free of Mold. If you do have a mold issue, we are Here to Help.
Virginia City is a Northern Nevada city located in Storey County, founded 1861.
Some of the properties here date all the way back to the 1800s and could have hidden mold damage that may pose health risks to inhabitants. Mold from old buildings can quickly spread – even within hours if the moisture levels are high enough. Don't wait to get your property checked!
Humidity zone maps show that dwellings in the Virginia City, NV 89440 area are at an increased risk of mold development.
Where Can You Find Mold in Virginia City Nevada?
Do you smell a musty odor? Many types of mold are hidden or invisible to the naked eye. Mold prospers in humid environments but you can find it anywhere. Making your home entirely mold free is impossible, but our goal is to keep the high concentrations of mold, such as black mold, at safe levels which is the level that matches levels outside. You can find mold in Virginia City Nevada houses in certain common areas such as: Basements, kitchens, and bathrooms. Mold is especially common in crawl spaces and attics due to the lack of ventilation increasing moisture levels.
Mold can spread in your Virginia City home or business from excess humidity or even a small water leak. In only 48 hours you could find the mold has spread quickly. Don't risk the allergens and other health risks mold causes for the property's inhabitants. SERVPRO partners with environmental hygienists that test for elevated mold levels with specialized equipment. It is important for us to have an independent third-party test for mold so there is no conflict of interest in testing. Then if mold is found, our trained professionals come in for remediation. When our job is done, the environmental hygienist comes back to re-test the mold levels and SERVPRO GUARANTEES a pass of the clearance test.
Learn more about mold and what to do until help arrives by reviewing these mold damage tips.

Understanding Mold
Mold and mold remediation can be confusing topics. Some businesses claim to remove ALL mold from a facility but this isn't possible. Microscopic spores float in the air and can enter a property through HVAC systems, windows, doors, or enter on your clothing or from a pet. Mold spores occur naturally both indoors and outdoors. Keep these things in mind:
Mold often produces a strong, musty odor.
Indoor humidity that's even slightly higher than normal can support mold growth. Keep indoor humidity below 45 percent.
Mold spores thrive on moisture. They could quickly grow into colonies when exposed to water. These colonies may produce allergens, irritants, and toxins.
Any sources of water or moisture must be addressed before mold remediation can begin. If not, the mold may return.
The Mold Remediation Process
Every mold damage scenario is different and requires a unique solution, but the general mold remediation process stays the same:
Step 1: Emergency Contact – (775) 588-2355
Our representative will ask a series of questions to help us determine the necessary equipment, resources, and personnel.
Step 2: Inspection and Mold Damage Assessment
Our environmental hygienist will use various technologies to detect mold and hidden water sources.
Step 3: Mold Containment
We use specialized equipment such as zip walls to keep the mold spores from spreading further through your Virginia City, Nevada home or business.
Step 4: Air Filtration
We use air scrubbers and HEPA filters to vent mold spores to the outside which is a faster and more efficient method than internal scrubbing only. We clear the air and prevent the spread of these mold spores while the mold remediation is in process.
Step 5: Removing Mold and Mold-Infested Materials
We use antifungal and antimicrobial treatments to eliminate mold colonies and to help prevent new colonies from forming. Physically removing the mold is the key to success.
Step 6: Cleaning Contents and Sanitizing
Mold infestations cause a persistent musty odor. Our professionals are trained to remove odors and provide deodorization using fogging equipment. Though most carpets and fabrics cannot be restored, hard surfaces can be cleaned and sanitized.
Step 7: Restoration
The restoration step could involve minor or major repairs and gets your home or business back to normal. Our SERVPRO has a general contractor license for Nevada and California, so we are qualified to handle any repairs needed following mold remediation.
SERVPRO knows Mold
Here at SERVPRO of Carson City, Douglas County, South Lake Tahoe, and Lyon & Storey Counties we understand what it takes to properly remediate a mold situation in Virginia City, Nevada. Encountering mold can be risky for any home or business owner, but SERVPRO is here to put your mind at ease. We have the proper tools and trained professionals to get the job done right. We are a leader in the industry for mold remediation.
Give us a call at (775) 588-2355 and we will be on our way to help.
Faster to Any Size Disaster
Mold spreads quickly, so a minor mold infestation can quickly escalate into a major problem. We're dedicated to responding immediately when you contact us. A fast response lessens the damage, limits further damage, and reduces cost.
Locally Owned, with National Resources
SERVPRO of Carson City, Douglas County, South Lake Tahoe, and Lyon & Storey Counties is locally owned and operated. Our company is new to Virginia City, but has been serving other local communities for 17 years. When you have a water or mold damage issue, we're already nearby and ready to help.
We are proud to serve our local communities including Virginia City, NV 89440 and surrounding areas.
We work with your Insurance
If you are unsure if you will be filing a claim to cover damages, contact us. We can work with any insurance company to make sure your insurance is utilized to the fullest while directly billing them for you. You may not be aware of what rights you have based on your policy. We know how to work with homeowner's insurance, giving you peace of mind.
Highly Trained Water and Mold Restoration Specialists
We specialize in water and mold damage restoration, with advanced training in restoration techniques and the experience and specialized equipment to quickly restore your property. Our team holds a list of certifications such as:
WRT - Water Damage Restoration Technician
ASD - Applied Structural Drying Technician
CCT - Carpet Cleaning Technician
FSRT - Fire & Smoke Damage Restoration Technician
RRRP - Lead-Based Paint Activities and Renovation

SERVPRO of Carson City / Douglas County / South Lake Tahoe and SERVPRO of Lyon & Storey Counties is committed to helping you overcome mold infestation quickly.
Specialized Mold Remediation Equipment
A Trusted Leader in the Restoration Industry
We Bill & Communicate Directly with Your Insurance
Fully Equipped to Handle Any Size Loss
When we handle your mold remediation job, we do it the right way:
Complete structural drying and dehumidification
Sanitizing and deodorization
Monitoring of Damaged Property
Crawlspace mold removal
Crawlspace vapor barrier replacement
Complete repairs after crawlspace clean
Clearance Test Pass Guaranteed
If You See Signs of Mold, Call Us Today – (775) 588-2355
SERVPRO also helps with reconstruction needs, for damaged properties or those just needing a little TLC.

For more about Virginia City, NV 89440 click here.