The Real Truth Behind Water Damage and Mold in Your South Lake Tahoe Home
3/8/2019 (Permalink)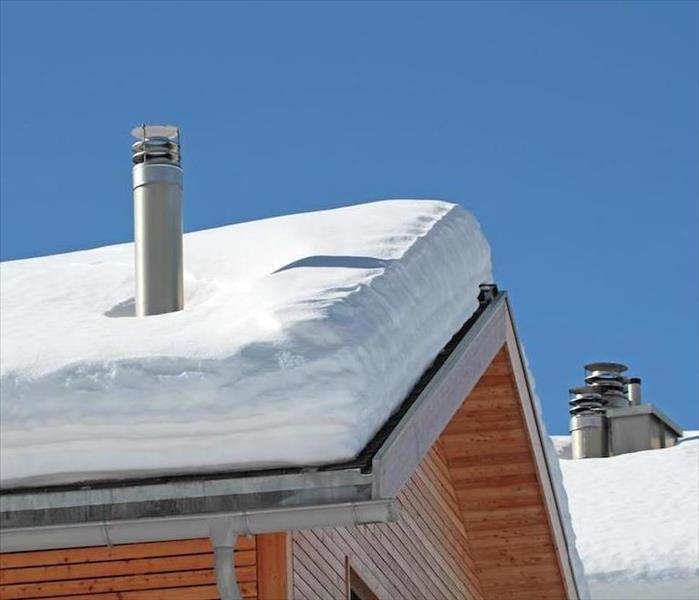 The winter snow and ice can wreak havoc on your home, especially the attic. Contact SERVPRO to investigate the extent of the damage and remediate.
Attic Moisture from Harsh South Lake Tahoe Winters
Many potential hazards could arise for South Lake Tahoe residents throughout the harshest months of the winter season. While frozen pipes are a leading concern for homes in the area, another potential problem rests in heavy snowfall resting on your roof for prolonged periods, which can begin to compromise its strength and defense against invasive moisture and dampness. Our team has encountered many attics throughout our service area experiencing dampness with roofing materials leeching moisture in from the slow snowmelt.
Moisture present in the attic of your home can present water damage effects in South Lake Tahoe that homeowners are entirely unaware about and do not immediately remedy. In many cases, without the attic being a livable space or frequently accessed, homeowners do not realize there is a problem at all until the same water damage has penetrated through ceiling areas to access the lower levels of your property. Our SERVPRO professionals can help with a fast response and the right tools to dry out this water damage.
From the time that our professionals arrive at your home, we have to establish the full measure of the damage to your property to set up containment measures and keep the water damage from spreading further. We can work to determine if secondary effects like mold growth have begun, and if so, get the necessary mold remediation personnel from our team working to set up physical barriers and setting up containment equipment such as hydroxyl generators or air scrubbers with HEPA filters.
Our SERVPRO team also sets up our fast-drying air mover machines along with LGR dehumidifiers to dry out the damage. We can then safely identify penetration points in the roofing material and work to repair these areas as other restoration work continues throughout the property.
The winter can bring about many potential hazards and damaging situations for your home. Let our SERVPRO of Carson City / Douglas County / South Lake Tahoe water restoration specialists work to remove moisture and its effects in your home. Give us a call anytime you need us at (775) 588-2355.
Click here for more about South Lake Tahoe.