Warning: What can You do About Mold Damage in a South Lake Tahoe Home Right Now
10/21/2018 (Permalink)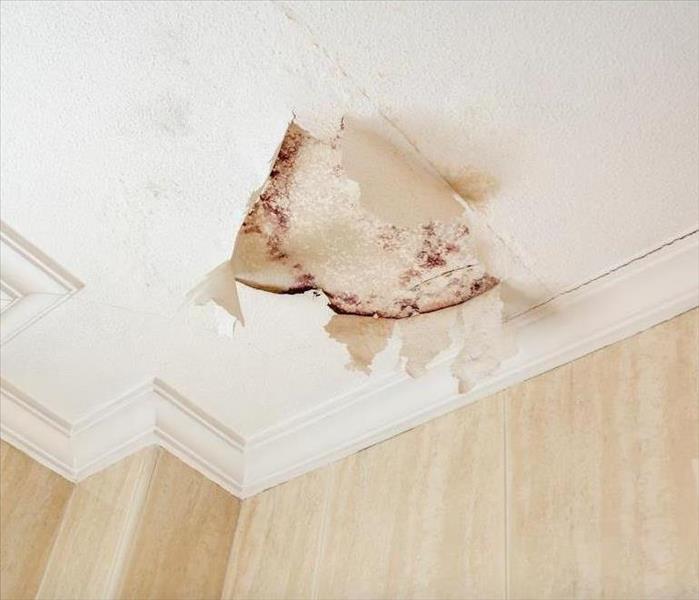 Water damage can quickly progress into a mold infestation. Contact SERVPRO immediately to address the damage.
Helping Prevent Mold Damage in the Future After Remediation of Your South Lake Tahoe Residence
When you find microbial infestations in your South Lake Tahoe home, worrying about its recurrence is normal. Knowing what caused the situation initially can help you prevent future problems, and SERVPRO helps make sure that any other preventative methods decrease the chances of mold and mildew returning.

This area is known for its beautiful homes, but mold damage in South Lake Tahoe can detract from this, even when mold stays hidden. This is because many strains of mold produce a distinctive and unpleasant scent whenever the mold releases spores into the air. Without air scrubbers during the initial remediation, spores can easily escape and lead to future infestations almost immediately after an increase in the amount of water vapor.

While air scrubbers remove odor-causing spores from the air, mold resting on surfaces can remain viable until we physically remove it. Unless we get rid of the mold, it can release spores in the future and renew your home's odor problem.

Our Odor Control Technician (OCT) often chooses ozone generators to rid a home of odors caused by living mold. One drawback to ozone is that the treatment can only take place once the house is unoccupied and fairly arid. Typically, this period lasts for about three to four hours.

We also use hydroxyl generators in situations where dampness is an issue or occupants cannot leave for one reason or another. This treatment takes much longer but is just as effectively powerful at getting rid of strong odors, and without the possible bleaching effect of ozone.

Other preventative steps we take for homeowners in keeping microbes from growing out of control involve treatment of the areas most likely to succumb to mold and mildew. We can apply a safe but highly effective antimicrobial spray that begins working as soon as it is applied. As it dries, it encapsulates mold and crushes it. Using both remediation of visible and hidden mold and topical agents afterward, SERVPRO can ensure your home stays free of excess microbial activity and the damage it can easily cause.

Other ways we help keep your home's microbial population at normal levels involve ensuring unwanted moisture always remains at normal levels. Installing a dehumidifier can help when a wet crawlspace is affecting your home's interior environment. Small leaks in your plumbing can also cause unwanted water vapor.

SERVPRO of Carson City / Douglas County / South Lake Tahoe also serves those in Gardnerville, Genoa, and Bijou by providing professional mold damage remediation and prevention services. Call us at (775) 588-2355 when microbes threaten your home.

Click here for more about South Lake Tahoe.